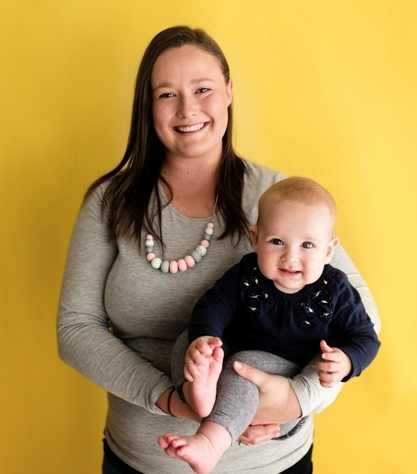 Megan Emery, like many others came to call Gippsland home after falling in love with a local. Growing up on the Gold Coast she left her hometown with a suitcase and a few hundred dollars and vowed to experience anything that life wanted to throw at her. She called it the 'Yes game,' inspired by the movie Yes Man. This led to meeting a South Gippy lad in Sydney.
When she first arrived in the area with her fiancé Kane she promised herself she would always appreciate the view and encourages everyone else to never take the beauty this region has to offer for granted.
After the tree change came a career change followed by an unexpected delight of a baby on the way. Megan was then made redundant while on maternity leave with her daughter Emilia. The creative adventurer had the idea for launching her online store and community September Baby. With a new baby of her own, the driving force was to empower all mothers to find the support they need throughout their parenting journey. Her store and website was created to give others a safe haven for sharing stories, seeking answers to many questions they have. Megan works hard sourcing information and resources to best prepare them for motherhood and get them baby ready.
A new creative off-shoot to be launched later this year has been an online Video series. They have interviewed four mothers of different ages to share their experiences in five baby-related topics. This is aimed to show first-time mothers there is more than one way to be a parent. "The aim is to provide a support network for thousands of Mums across the country to have each other's back throughout their journey of motherhood."
With so much advice out there thrown your way the moment you announce you are expecting she aims to cut through the noise and offer a little grounding to those first-time parents. Helping them find their own groove with a reminder that each parents journey can be different and each baby an individual. In one day a mum can be given conflicting advice by well-meaning friends, family or strangers. The aim is to empower mums to trust their instincts and find their own way to parent their child and to make their journey together a positive one. 
Head over and follow the stories of local Gippsland Mums across her social media.
Photo credit: Mel Cameron Photography