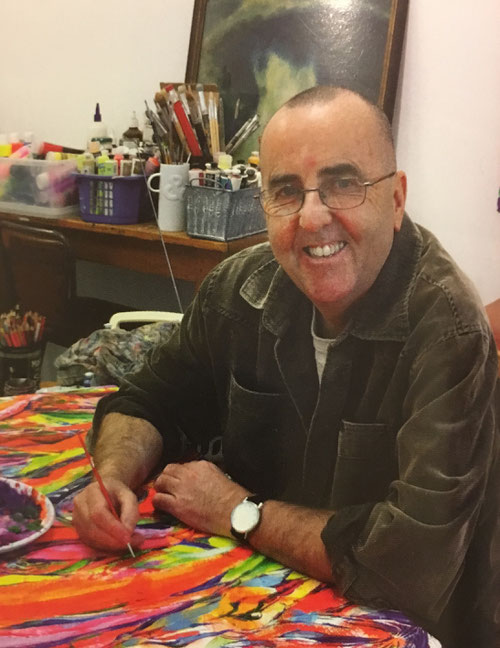 Ken Roberts was born in Maffra in 1960 at Maffra District Hospital. "My twin sister and I were pictured on the front page of the Maffra Spectator as its newest citizens." Ken has worked in this same hospital the last 22 years as a nurse.
Ken tells me that he 'accidentally' bought the former Uniting Church in Boisdale last year. A heritage listed building that he is painstakingly restoring into an art studio. The restoration is well under way with the finish date set for this weekend, to be part of the Briagolong and Stratford Open Studio event. He also has plans to convert the church extension into a residence.
He lives in the house he was raised in, "I am definitely and literally at 'home' in Maffra; I feel like it covers me like a warm coat. I have travelled across the globe and around Australia and when l return to Gippsland l breathe a sigh of relief to be back. It has everything, beautiful scenery and history, it's close the mountains, lakes, beach and only a short trip to the city. It has the best of everything. Many places are still relatively unspoilt." Says Ken.
No stranger to a big project. Before buying his family home a few years ago, he built an Eco-friendly house on acreage in Boisdale, only 5 minutes out of Maffra.
"
I did an artist talk with primary school students recently and I told them that I had climbed to the top of the Statue of Liberty and had woken up on the beach at Gallipoli on Anzac Day, but the best place in the world is here.
Ken Roberts, Maffra Artist
"
Several exhibitions of Ken's paintings have focussed on the men, women and country area of Gippsland. His 'Country Women' exhibition continued for a year with 50 portraits of 25 extraordinary local women. "I'm passionate about the people and places around me and I'm in the Garden club, am the vice chair of the Progress association, a member of Stables restoration committee and now also edits the area's newsletter." Ken is indeed invested in his community, in addition to this he is a trustee at the Maffra Cemetry.
He was inspired to write his book entitled, 'Country Town Quilt,' which told of life growing up in a country town from the 1960's. "It recalled a time not so long ago that has disappeared and related stories of everyday people from my growing up. The book was launched in 2015 and was well received by the community." Says Ken.
Eager to finish the Church project by his deadline he looks forward to having his own studio space available to continue to advance his art work see it taken to a new level.
With Millie the wonder-dog beside him he maintains a very positive outlook in his very busy life, holding fast to the belief that, "We are each masters of our own destiny. It's often the choices we make that affect our present and future. Choose wisely." Ken says he has no regrets.