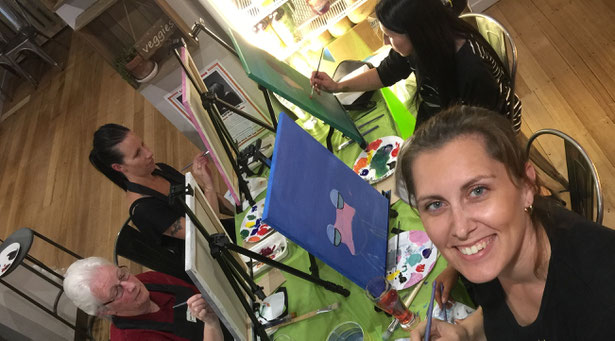 Art lover Amie Pump relocated with her family from the NSW Mid North Coastal Town of Laurieton to Gippsland to be close to her extended family. Long before they arrived, Amie was dreaming about a new business venture to launch once she reached Gippsland. Allowing her creative spirit to lead the way she has set about establishing mobile art classes in the region
Art lover Amie Pump relocated with her family from the NSW Mid North Coastal Town of Laurieton to Gippsland to be close to her extended family. Long before they arrived, Amie was dreaming about a new business venture to launch once she reached Gippsland. Allowing her creative spirit to lead the way she has set about establishing mobile art classes in the region
Art lover Amie Pump relocated with her family from the NSW Mid North Coastal Town of Laurieton to Gippsland to be close to her extended family. Long before they arrived, Amie was dreaming about a new business venture to launch once she reached Gippsland. Allowing her creative spirit to lead the way she has set about establishing mobile art classes in the region.
Soon after arriving late last year she launched her business now known as Bristles and Brushes. People gather, enjoy a wine or a coffee and create a work of art in a fun and welcoming environment.
Amie is passionate about creativity and after researching concept of mobile painting classes that allow people to reconnect with their inner creativity in a relaxing and fun environment.
The concept has taken off in Gippsland. Amie holds sessions in cafes, community spaces, people's homes and being mobile the options are endless. She's expecting to need to bring others on board to grow the business to meet demand. 
"At a class I had three generations of women there. The grandmother had dementia. Her daughter said she spends much of her day confused and irritable. She was mesmerised by the session. She created a beautiful painting that had such depth and interest in it. It's moments like this that really remind me that this is more than a business. Art is a powerful form of therapy." Says Amie.
Setting up supplies and mini easels to welcome participants to create a work of art alongside others. It's creative and social with many returning again and again to participate in her sessions.
Her only regret has been not pursuing something like this sooner. 
 'Participants are welcome with no experience or lots. The style allows for individual flair right through to a structured step-by-step process to guide the complete newbie through creating a work of art. I love seeing the individual results captured on canvas. Each person bringing their own emotions and personality out on their art work."
Amie's husband grew up in Gippsland and they have three children who are settling well into their new surroundings.
When not creating Amie loves being with her family, "that's my happy place." They've enjoyed exploring Inverloch which is a pleasant reminder of their previous costal home.
The advice she leaves for other new Gippslandians is to "get out and try to meet new people to make a new circle of friends." Something she hopes to plans to make more time for over the rest of the year.