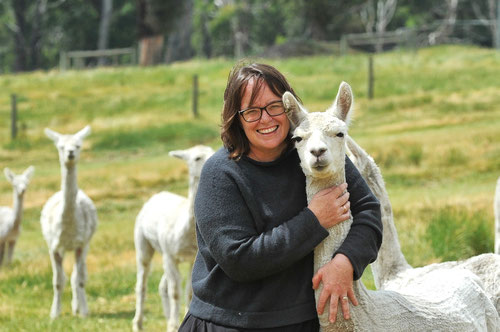 Meet Angela Betheras who, along with 60 alpacas lives on her picturesque Darnum property.
Using a Japanese weaving technique she creates one of a kind, wearable works of art from hand-dyed alpaca fleece.  
Angela Betheras earliest memories are of life in Gippsland. She vividly recalls riding her horse to Labertouche Primary school, her home town for many years after her family moved from San Remo when she was just a toddler. Darnum is home for the Alpaca's she breeds whose fleece she harvests to turn into artistic cloth which she sells from her farm-gate shop.
Using a SAORI method of free-form weaving learned in Japan. In 2008 Anglea opened Nickelby At Darnum. "I found a totally bare 67 acres with no buildings, no house, only three paddocks, no electricity and no water. I found a builder we set about to together build the main buildings which include the shop and licenced café." Says Angela who has around 60 alpacas in her herd.
Originally Angela was following a traditional structured weaving style but it wasn't the right fit. "I'm not one for following the rules and most weaving required following patterns, I hated it. A friend who is a master weaver suggested I look up SAORI, a free-form style with no patterns allowed; right up my alley. I found a few teachers in Australia but then discovered the creator of this method was still alive in Japan, aged 103. I jumped at the opportunity and attended classes run by her son." Angela loved the full-immersion method of learning which included staying in their apartment and working under their tuition for 11 days."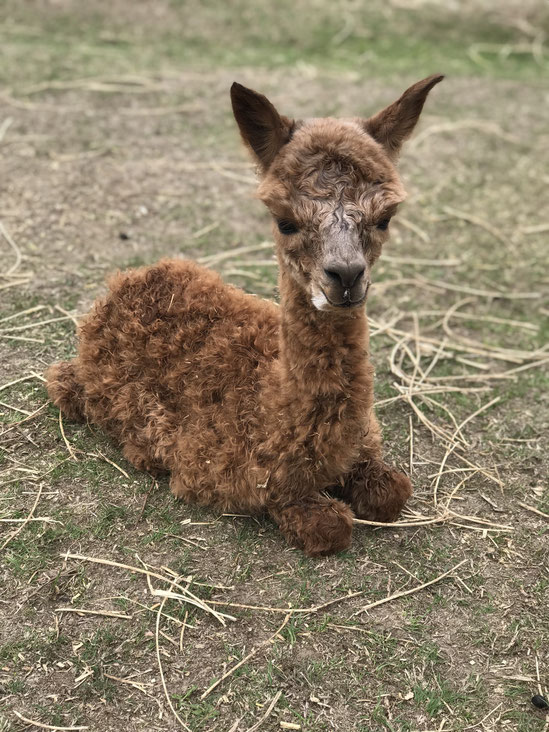 Angela's clothes are what she calls 'paddock to rack'. "Shearing happens once a year. I get fleece from around 35 alpacas in my herd which yield around 1.5kg of useable fleece each. I spin some fleece myself and send the rest to boutique mills run by other alpaca breeders to turn into yarn." Angela explains. "The process of dying and weaving or felting is time-consuming. One item takes around 12 hours, not including the 12 months it took for the alpacas to grow the fleece." There is lower grade fleece that is used for dog beds and garden mulch that doesn't make the cut for clothing.
Life today is a far cry from her corporate career as International Supply Chain Manager with Coles Myer. Angela is currently preparing for her first international fashion week at both Port Douglas and Freemantle in November. Creating 16 original outfits as part of an Eco Fashion display on the catwalk is the highlight of her journey thus far as a fashion designer.
"Years ago I worked in the marketing department of Country Road so fashion shows and running them are second nature to me however, being the designer and not just the dresser is rather scary. Thankfully with my background the nerves can be channeled into excitement as I, to some degree, know what to expect."
If this isn't busy enough, she's planning and overseeing the construction of 3 yurts and 2 pods to create a new home  With her two dogs, Paddington and Archie by her side as she manages her farm and creates for her clothing label, she's not wanting for company.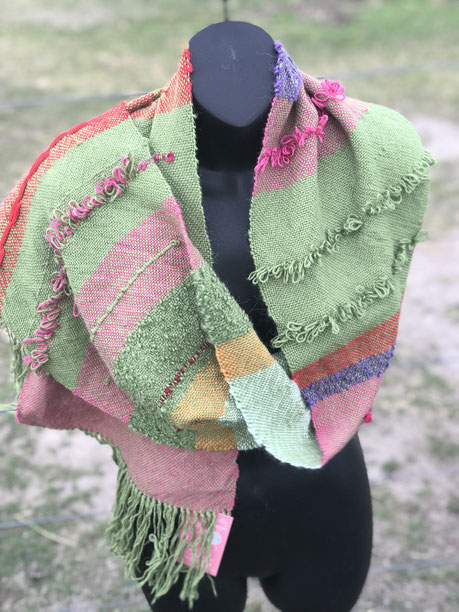 Her aspirations are grand and with her grit and determination she hopes to one day, see her fashion on the catwalks in Paris. "I'm inspired by Christian Dior. He changed the face of fashion after the war in just ten years. He wasn't always a designer, he started out running a gallery, he was self-made and his legacy lives on." Explains Angela.
Angela toys with the idea planted by a friend to put her life story into a book. "I have to wait until some of the characters die so I won't be sued." She shares with a laugh. Spending lots of time in her own company there are long lists of all she hopes to achieve rolling around in her mind, if only she can find more time.

In a digital age she has also created an online shop to compliment her farm-gate sales. While tech-savvy she still relies heavily on paper and pencils. "I always carry my sketch pad and have a giant handbag with my knitting, yarns, notebooks and diaries. But it often feels like I'm lugging around a bag containing a few bricks. I love paper and stationary, so I prefer managing things this way. I've tried to do it electronically, it's not for me" Angela explains.
Coming across as outgoing and confident speaking in public, on radio and chairing meetings in a professional capacity, Angela shares that in social situations it's quite different. "Where there are lots of people, I just want the floor to open up and swallow me."
"I love my life in West Gippsland. It's easy to get consumed with all the work to do. I live with a positive outlook on life. I love the quote, 'today is the day you were worried about yesterday, was it worth it?' It's a daily reminder to take time to enjoy the trees and hills around me and breathe in the clean country air and not sweat the small stuff."