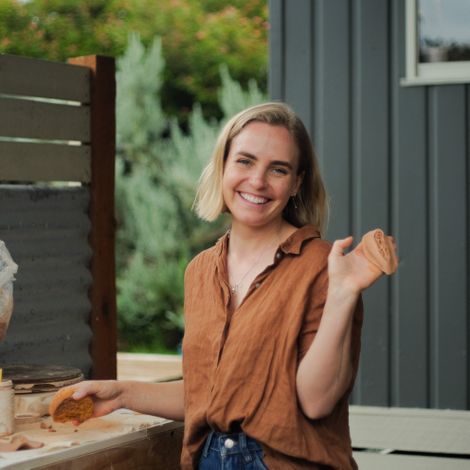 Meet Anna Cuttriss, a self-described 'slashy'. She shares her time between being a public servant, bush fire
fighter, ceramicist and hatha yoga teacher.
Interviewed by Karen Bateman from @artistmeetswriter about her creative life
As former editor for A Diary for Writers and current library officer, Karen Bateman's short stories and poetry have appeared in Kill Your Darlings, Verandah, and at The Edge of Us Festival. Karen was recently highly commended in the Bass Coast Prize for Non-fiction for her essay Ed and the Birds, and when the library is open (!) she is coordinator of the Bass Coast Poetry Wall. Connect with Karen at @artistmeetswriter and see more of 'Three for Three'
The 'Three for Three'  Concept
Three for three is three questions (occasionally a fourth question sneaks in), for three women, based around creativity. The concept grew from a curiosity about how people, particularly women, build creativity into their everyday lives.  How did they prioritise their creativity whilst managing kids/work/domestic duties?  I hope their answers show that it's worth making time for creativity, that creativity has many forms, and that time to create is worth fighting for
Meet Anna Cuttriss
How did the idea of the vulva vessels come about?
Initially, it was seeing other artists making vulva art. It was pure curiosity. I wondered if I could translate this art onto a cup. From my very first cup, the response from the community was so positive, I knew I had to keep creating and evolving within this art form. Then, what started as curiosity shifted into a feminist statement. I wanted to take something so hidden, so stigmatized, and put it into a public arena.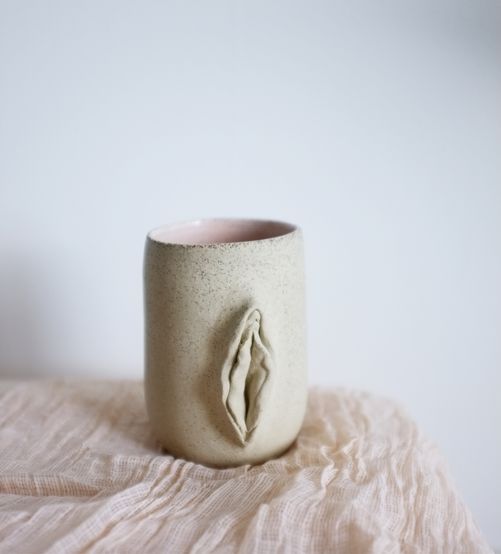 What does creativity mean to you?
What resonates, creatively, is making something with my hands, something tactile and kinesthetic. It is allowing myself to be deeply immersed in what I am doing, to the exclusion of other things. The small creative processes are the most interesting to me. You can have moments of feeling truly alive, and of flow, in simple things, yoga, cooking, sewing, ceramics.
I'm so grateful that I can access these things from home. There is a deep creative satisfaction in making something that I use every day, whether sourdough bread, a piece of clothing, or a cup. I love the idea that something I create is useful and beautiful at the same time. I also love the idea that by making something myself, I will use less resources and energy and have less impact on the  environment.
"I want to contribute to a slower world. That's not to say that there shouldn't be art for art's sake, because I absolutely believe that there should be!"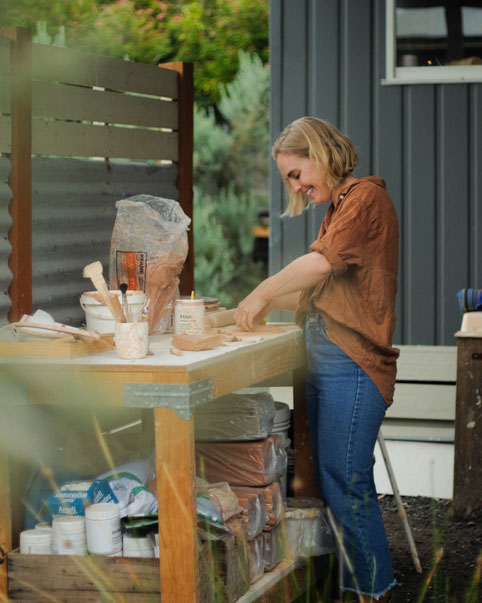 How do you prioritise creativity?
After a few years of full-time work, I decided to reduce my days and take a pay cut. (I realise that I am incredibly privileged to be able to make this choice.) Now I have one day a week that I dedicate to my craft. I purposefully carve out time to be creative. I was very disciplined when I first began, now I am less rigid! Typically, I don't do housework on these days; I focus on creating and slowing down. I may do some yoga or bake bread, but if I am excited about a project then I can spend all day on the wheel. It depends what stage of the process I am in.
When I'm glazing or trimming there is a certain amount of work that needs to be done by a certain time, then I need to focus. If I'm starting pieces on the wheel or hand building, I have more freedom to get distracted, but I'm learning that this is okay. I am a small batch ceramicist and my shed is already overflowing.
I find there is a sense of guilt associated with a to-do list ( if I don't complete the list) so instead I start the day with a list of ideas, things that would be nice to do and it's okay if it doesn't all get done. I have a vague structure to my day, without being too prescriptive, and this helps me to stay focused. Having said that, I am becoming better at prioritising rest.
"Society is built on the idea that productivity is time spent doing something, so part of my creative process is to spend time in stillness, have more naps, walks and reading."
My nature is naturally fast paced, so I have had to learn how to build this into my day and this has been one of the most challenging things for me. It helps that I left the idea of FOMO by the wayside a long time ago, and often prioritise time to be creative over social
events.
How do you navigate self-doubt?
When I think about self-doubt, I immediately think about the impact that social media has on our mental health and the comparisons we draw with other creatives. It's quite easy for me to look at what other ceramicists create and think 'why didn't I think of
that?' or 'they throw much bigger pieces than I can'. I think that they are so much further along the journey than I am, and I should be better. I find that this narrative is stronger when it comes to navigating my journey as a yoga teacher and where I think I should be.
I often pull myself up on this and remember that the reason I create is not to compete.
The reason I create is for the joy of creating. I am adept at giving my ego a little clip around the ear and putting it back in its place! I try to celebrate all the other wonderful creatives out there, because I strongly feel that as creatives, we should be lifting each other up, rather than comparing ourselves to each other.
Why do you think it is important to make time for creativity during these times?
Now, more than ever, I am feeling so grateful to have a creative practice. I get so much joy from being at home and accessing creative outlets. It is easy to fall into the habit of scrolling on our phones, or binge-watching Netflix (and I am doing my fair share of this!) but I know that making time for creativity leaves me more fulfilled and whole.
The process, for me, is nourishing and enjoyable. Craft and creating are not just for children. As adults, when we leave school, we can leave this side of us behind. We lose the habit of creating. I have discovered firsthand how much a creative practice benefits my mental health. This can be the time to learn a craft or finish that project you have always intended to and I encourage anyone, with the slightest interest in exploring a creative outlet, to take the time to pursue it!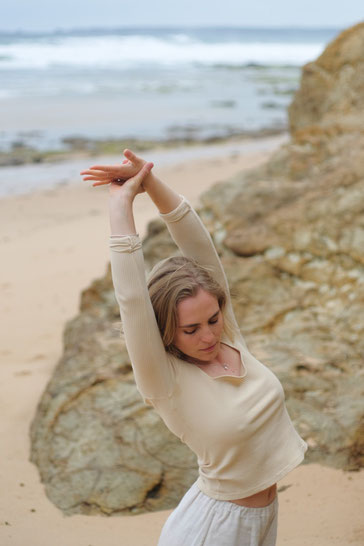 During the week, Anna is a Senior Policy Advisor for the Victorian Department of Environment, Land, Water and Planning and, for the past 8 years, she has also supported the Department's bush fire response as a Crew Leader Bush fire Fighter. Over the summer months, her fire role has her deployed to bush fires across the state. A percentage of sales from her ceramics on her website are being donated to  State of Being.
Anna has been working with clay since 2015 and now spends her Fridays and weekends creating pieces in her home studio in Cape Woolamai.
Having completed her 200 hour Yoga Teacher Training with Gertrude Street Yoga in 2017 and her Trauma-informed and Community Yoga Training with Yoga for Humankind in 2019 and now teaches 2-3 yoga classes a week. Her teaching tends towards simple and grounding, layering options for exploration and noticing physical sensations in the body. Anna finds this variety provides balance to her life, supporting her need for creativity, spirituality and practical contributions to the environment.