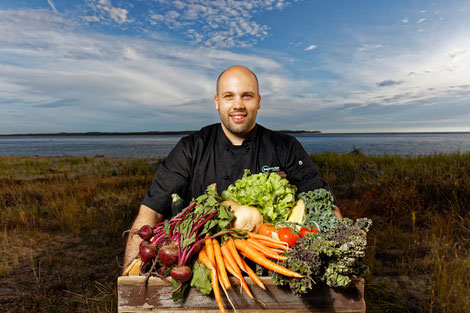 Brent Sinclair has brought his passion for food and creativity in catering to South Gippsland.
Brent Sinclair has brought his passion for food and creativity in catering to South Gippsland. .
Raised in Gippsland in Stoney Creek; between Koonawarra and Foster, just off the South Gippy Highway. Brent completed his chef apprenticeship in Inverloch before heading to Melbourne to expand his skills.
While working in the city as a chef he moonlighted in his free-time, catering for friends and family events. In 2014 he returned to Gippsland. Making Leongatha his home he leapt into self-employment, launching Brent Sinclair Catering.
Returning to country life was an easy decision. "While the city is always changing, you can't beat the joys of open space and beautiful hidden locations on offer in this region. The thing I love most about working and living in Gippsland is the variety of fresh produce at your finger-tips and the community of family and friends I have here."
 When not catering for functions of all sizes, Brent loves to head to the beach at Inverloch. He is expanding the business to launch a food-truck, 'Feast on Us' to take the Gippsland produce he loves to the streets, local markets, events and festivals. He's looking forward to exploring more of Victoria in his food truck, growing his business and looking forward to the next adventures in store.
Inspired by the likes of Jamie Oliver in the foodie world; his style and how the focus of his culinary passion is all about family, friends and good food.
With the variety of catering jobs coming his way, he loves a challenge, getting by with a positive attitude. "It's never no, I ask myself, 'how can we do this.' There is always a way." Says Brent. Regularly adding to his cook book collection and gaining inspiration from many cooks and chefs around the globe. His favourite food to eat is Mexican and when able to travel, he is inspired to bring new ideas back to add to his business repertoire.
Brent has shared his knowledge and passion with his staff and is growing a great team of employees to help him to offer great service to his clients as well as great food. Investing in the future chefs and business owners of Gippsland.