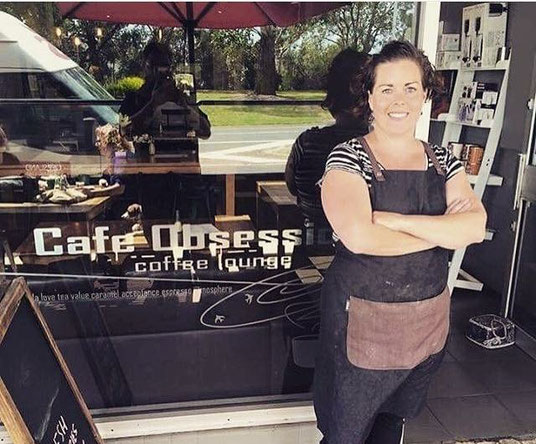 Another instalment from our founder and director Phoebe Rae. This week she talks about being a Working Mum or as she prefers, a Career Loving Parent.
For any of you over 40 you may remember Dianne Keaton in Baby Boom. Those of you younger will maybe identify more with the image of Kate Hudson in Raising Helen. This is the picture I think many have come to mind when they think of a 'working mother'.
A professional woman in a power-suit. Excelling in her career and failing miserably as a parent or vice-versa. Attempting the juggle of work and family and failing miserably at one or both.
I've been asked to speak to a Mothers Day Luncheon about being a Working Mother so I've been mulling over what this means to me and how it works in our family. How do I sum up in 5 minutes this to a group of other women?
In my 12 years as a parent I've worked all but the first 12 months and then for around 6 months I worked part-time. Zero power-suits in sight. When my daughter was 18 months old we began running our own small business Obsession Coffee. During the next 11 years each of us took breaks from the day-to-day work gig but have never stopped working.
Those running a small business know that you're never really ever switched off from it. I'm really glad I have a husband who is also a great business partner and co-parent to our kids. I often have people tell me how 'lucky' I am to have such a hands-on Dad for our kids. Frankly I don't think this is lucky, we are just both parents and both take responsibility for our family while both working or not as the season dictates.
If you want to work. Work. If you want to stay home. Do. If you want to do a bit of both, figure it out. But give up the guilt. You're a great parent. I attended a parenting workshop this week and not once was it asked whether any of the participants (mostly Mums) worked or not.
Guilt is a worthless emotion. It only hurts yourself. I've wasted too many days wracked with motherhood guilt. Working or not, it's a constant enemy waiting to sap my joy and make me second guess myself.
These days with one of us working outside the home (me) and the other working at home (him) we're in a new season.
We sold our cafe in January and this is the first time ever my husband has not worked since finishing Uni in his early 20's.
There have been seasons though where one of us has needed to focus our energy on the business and while the other has their attention towards the home and kiddos. Also we've had many seasons where we've had to both direct our focus on the business. I've sent kids to childcare dosed with cough mixture and panadol hoping they got better not worse on a day I felt there was no other option but to do this.
I'm not a bad parent but there were days when I had to do what I had to do and the kids got through. A handful of times we closed the cafe doors closed with a sign on the door saying 'gone fishing'. It was always what we wrote. Once when the whole family had gastro and staff were not able to cover, another time the cafe was broken into and we just couldn't face trading after feeling so defiled.
Day in day out you make decisions to parent. To pick your battles and when your family business is just that, an extension of your family.  It's part of the picture and sometimes gets the attention it needs, other times it's put to the bottom of the list.
 It's there when someone says, "I don't know how you do it all." On a good day it's just an off-hand remark, I laugh off with my standard reply "I don't, that's the secret." Perhaps it's even said as a compliment if I look like have it all together. On a day that I'm feeling vulnerable, they may as well scream "You're screwing it all up. Good Mum's don't work."
An interesting point though, have you ever asked a male parent with a young family who is the working one "How do you do it all?"
Nope, didn't think so.
Right now my husband the stay-at-home parent while I work full-time. A non-traditional role and not one we know any others embracing in our small-town rural life. He reflected recently that when he has the kids looking less than their best, he says people give him the impression,
"Poor bloke, I guess he's doing his best." But he feels that for me as a woman and mother, if I'm not having a day where things are picture perfect, there is judgement for not getting it all right. For not keeping all the balls in the air, or appearing like it at least.
The truth is I don't do it all. Neither does he.We also have friends in our team for the odd school pickup and grandparents for the rare weekend away together. It takes a village, if you are doing it solo, start recruiting. Make friends, build trust. Adopt some grandparents and fill the gaps. Find child care options that work for you. Embrace the carers and kinder teachers and get to know them. I reckon that any additional adults your child can trust in their world is a positive thing.
My husband and I work to be on the same page but can do this even though we parent a little differently. His ability to let the kids dress themselves and not argue with a 3 year old wanting to wear her Paw Patrol pj's for the third day in a row as day AND night wear is not a big deal to him. I actually think it makes him the better parent than me. If it's up to me I have the fight. Or I used to. I'd insist she wears clothes AND brush the hair through tears to 'keep up appearance'. He's content to brush her hair every other day when she's more agreeable. I add pressure to parenting situations that I shouldn't o keep up the smoke-and-mirrors as a Mum and he's happy to let it slide. Although he's more firm with food and bedtimes and I'm the slacker there. We both learn from each other and draw on the strengths we have.
We live a busy life. I work and we both volunteer and have a large family. I think AS a family unit we function better when we're busy.
The weeks we have less on we are less organised because there is more wriggle room for slacking it.
If you want something done, ask a busy person    ~ Lucille Ball
I don't have it all or want it all. I'm in a season of career growth and I'm grateful for a partner there to cheer me on in this season. For now he's the lead parent and until the right opportunity comes his way, I'm happy to enjoy it. When his opportunity comes up, I'll be his biggest cheerleader and we'll knuckle down, reevaluate and make it work.
When my little one says "Don't go to work Mummy." I tell her, "Mummy likes going to work. I'll see you after work". She usually is distracted quickly by something and is happy with this explanation followed by an extra squeeze and a promise we'll jump on the trampoline together when I get home. Sometimes we arrange a lunch date to say hi and play in the park when they're particularly missing Mummy, we just make it work.
The Working Mum title conjures up unwanted negativity for me. I heard the term Career loving parent the other day. I like it!