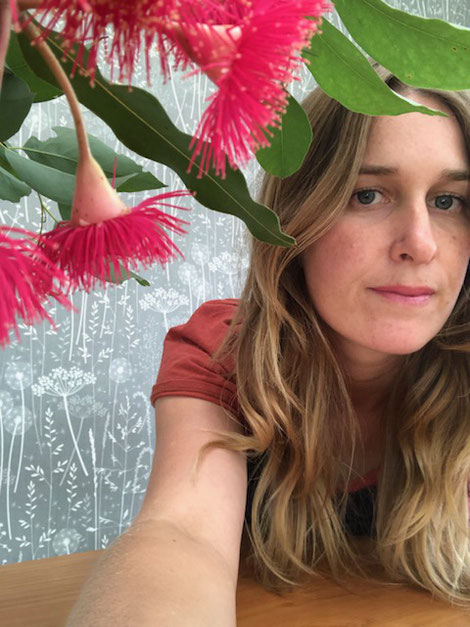 This week we welcome guest blogger Karen Bateman from Inverloch who interviews local creatives for her instagram @ArtistMeetsWriter  
As former editor for A Diary for Writers and current library officer, Karen Bateman's short stories and poetry have appeared in Kill Your Darlings, Verandah, and at The Edge of Us Festival. Karen was recently highly commended in the Bass Coast Prize for Non-fiction for her essay Ed and the Birds, and when the library is open (!) she is coordinator of the Bass Coast Poetry Wall. Connect with Karen at @artistmeetswriter and see more of 'Three for Three'
The 'Three for Three'  Concept
Three for three is three questions (occasionally a fourth question sneaks in), for three women, based around creativity. The concept grew from a curiosity about how people, particularly women, build creativity into their everyday lives.  How did they prioritise their creativity whilst managing kids/work/domestic duties?  I hope their answers show that it's worth making time for creativity, that creativity has many forms, and that time to create is worth fighting for.
Meet Emma Burness
What does creativity mean to you?
Creativity to me means time I can have on my own, that is all mine. Quiet time.  Escape time.  The garden was my first creative project. We moved back to the coast from Melbourne in 2010 to a 1/4-acre block with just grass, not a single plant to be seen.  I wanted a magical garden, where my kids could roam free. This garden was my baby (along with my actual babies!) and I loved it, nurtured it and photographed it but I found photographing gardens difficult. I could never see the texture or the detail of the plants, so I began narrowing in on organic shapes. I would sit on the deck, Harriet playing at my feet, and arrange nuts off a flowering gum, serrated leaves from a coastal banksia or lemon myrtle petals into mandala shapes. The shadows from the sun ruined the shots so I moved inside, in low light, and started really thinking about composition and negative and positive space. When I work on something creative, whether my artwork or the garden, it feels very meditative to me. I get lost in the process and can often be listening to the same song on repeat for hours without even noticing!
"When I make time for creativity it, in turn, makes me a much better partner and parent."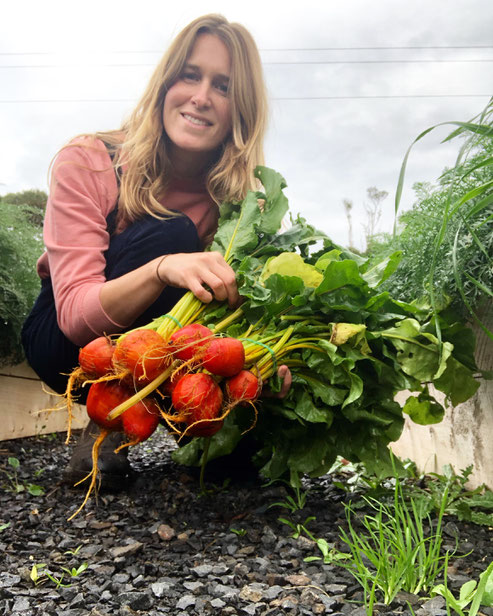 How do you make time for creativity?
To be honest, I struggle. My husband and I run a small, organic fruit and vegetable farm in Cape Paterson. Let's just say that between the harvesting, cultivating, landscaping and farmgate sales, plus our two beautiful girls, Harriette and Jemima, I feel stretched to the max with my time. Send help! As a mother, partner and businesswoman, I often put myself last on the list of priorities. At this point in my life I literally yell that I am allocating myself a day to focus on my artwork. It must sound so serene! This is necessary because the farm work never stops, there is (and will always be) a never-ending list of things to do.
I mentally block out the list and pen in a day for myself.   This has been made easier by our recent move to the farm.  At our old house it was tricky getting anything done. I would be set up on our dining room table, Harriette would collect her own plant specimens and be making her own mandala.  Jemima the younger one would be painting.  This scene would last about ten minutes and the house would relapse into chaos! Now I have the shop space to work in.  It's light and bright and when there's no veggies in it, it's got plenty of space. I am also always on the lookout for suitable specimens and this can bring creativity into my everyday actions. I'm often up for a bit of flower theft! If there's a flowering gum on a nature strip, or a wattle hanging over a front fence, I think they're mine for the taking.  Harriette continues to be horrified when I pull over on the side of the road to collect something that catches my eye.  In less shady circumstances I collect plant specimens on walks around our coastline.  The last artwork I created was from specimens collected on a walk in Cape Paterson, from the bay beach car park through to the channel.
"I am a calmer, more confident individual if I make time for creativity. It's imperative for my mental health."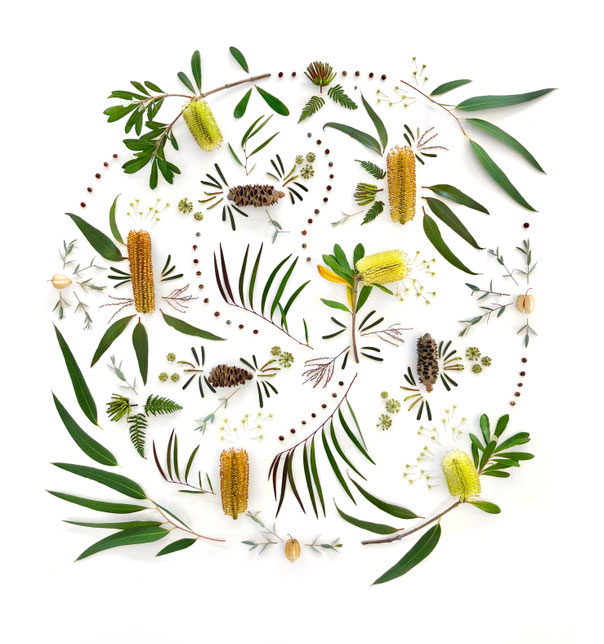 You just started selling your prints, was this dauting?
I was lucky in that it all happened rather organically. A pin cushion Hakea I planted in my front garden finally flowered, after three years! I recorded it in my usual way (arranged in a mandala along with other nuts, seeds, petals etc.) and posted in on Instagram. It was well liked, and I had it printed, framed, and hung it in our lounge room. Then, when we started the farmgate shop I hung this print on the wall and I got so many lovely comments on it. Initially I just sold framed prints, but this summer I started a small A3 sized print run of four of my favourite pieces. It was scary because it is a financial outlay, but I was quietly confident they would sell due to the amount of interest from people. They sold, and I'm really pleased that they were well received.
Written by Karen Bateman of @artistmeetswriter