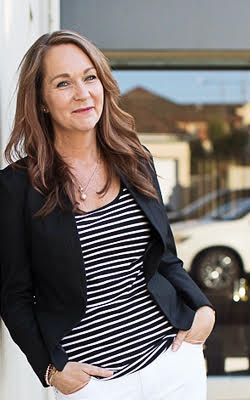 Meet Linda Fowler. A business woman who has rebuilt her business and her life after great challenges. It's now what sets her apart in her industry to help others in business. Located in Gippsland where she's achieved an enviable but achievable work/life balance.
Linda Fowler has called Gippsland home all of her life. Her parents relocated from Bon Beach in the late 70's to raise their children in the rural township of Neerim South. Linda's Dad would travel in this direction with his own father to go camping on weekends and fell in love with the countryside. Moving his family to a farm in the area later in life was a huge move for the city lad. "Watching my city-slicker parents adapt to farm life was a funny thing. I have great memories of those early years. One day Mum pulled us out of school to race home to see a calf being born." Explains Linda. "I got too close during the event and the cow stood on my toe and broke it." Laughs Linda at her city kid wistlessness.
Now based in Warragul Linda is a huge fan of exploring Gippsland. "Living an hour from the beach, snow and city gives us the best of both worlds." Says Linda. "Save your money and travel around here first. We have some of the coolest spots on our horizon."
"When life gets tough, go outside. When you look at the enormity of the land and remember you are but a speck in the big scope of things; and so are your problems. It helps me put things in perspective to be able to look across the mountains." Reflects Linda. "When needing a change of scenery, the Oaks beach at Inverloch is my go to. You can travel the world but this beach will take your breath away."
Linda has had every reason to give up but her resilience through adversity gives her what she calls her 'street cred.' Having built a company with a former business partner only to see it in liquidation was harrowing enough. On top of this she had brush with cancer, rode the roller-coaster of IVF and the final blow was losing her marriage. Finding a silver lining amidst it all, the two liquidators became her mentors over the following 10 years. Linda took all that she learned to bring her to a place where she can help others avoid the same heart-breaking path. "I now pass my knowledge and experience on to others so they won't have to go through the pain I did." Says Linda emphatically. "I live by the saying, 'come hell or high water that will not happen to anyone on my watch'. It's what sets me apart and makes me good at my job. It's a qualification that I gained that can't be found in any text book."
Now with a successful business that has been built on real time and real experience. "I am a business consultant specialising in the people-problems of a business. I learnt very early on that people make your business and having people in the wrong job in your business can be detrimental to its success." Explains Linda. "My business is built on working with others to develop their people, teams and culture to improve their productivity in-turn to improve their profitability."
Up-skilling and investing education for her business to secure financial independence into the future has been motivated by her other role as parent to her two almost-grown children. She takes this job of role-model seriously. "I know I am their first example of a good adult." Linda beams at the mention of her children. As a sole parent who is running a business, studying and coordinating her time around client's needs she says she does get tired. "Knowing they are watching me pushes me to achieve, show them my commitment and discipline." Beams Linda. "Manners and good old-fashioned work-ethic is some of what they will need to be good community members."
Living through the loss of so many things she held dear, her marriage and business, she now looks back on this pivotal 'forehead-slap' as a blessing. "I realised that the people that loved me were there to support me. It's been 10 years and I know now that we don't have to be going through something life-changing to be catapulted forward." Says Linda. "Although many of the success stories I've heard stem from a place of pain; like mine. Some things you can only learn in a storm. When life pulls the rug out from underneath you, you've just got to keep punching." 
"The work life balance is what we all want and living in peaceful surrounds is good therapy, that's why Gippsland is still my home. It provides me balance." Linda concludes.