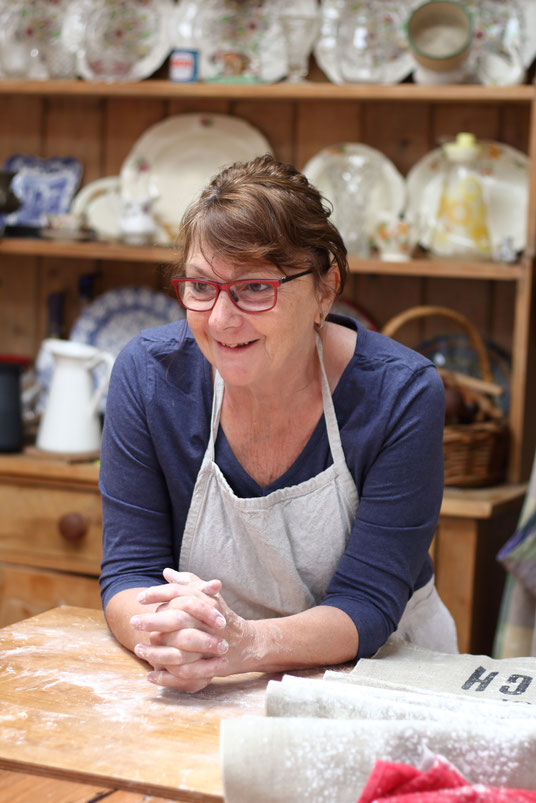 Meet Maree Tink who is making sourdough bread from her Micro-Bakery in one of the most historically significant houses in her town. She's breathing new life into the house and sharing her love of food and baking through cooking classes and a beautiful blogging space.
Maree Tink was on the way home from a having breakfast out one Saturday morning when she bought a house. It is in this place she calls the 'new-old home' she blogs about her passion for food and has established a custom built micro-bakery. Baking around 45 loaves a week of her sourdough bread for orders from Gippsland customers she shares her passion for sustainable living through regular Sourdough Baking classes.
Maree and her husband had recently renovated their home and were content to stay there indefinitely, or so they thought. "There are very few homes of historical significance in our town and what we have always considered to be the cream-of-the-crop was listed for sale." Says Maree
Most Saturdays Maree has a Cello lesson, this day she declined the lesson to take a rare opportunity to go out to breakfast with her son. On the way home she saw that the house had an open sign with an auction set to follow. The home for sale also had a special attraction to Maree as she considered its former owner to be a local ground-breaker responsible for establishing many facilities and services in a rural setting that would normally only be available to city residents.
"We jokingly had said to each other 'let's buy Sheila's' totally unaware of what would follow." she adds. She was dropped off at the Auction by her son. She leapt out the car instructing him, "tell Dad I'm going to buy Sheila's."
Maree put in a bid and the auction was passed in. By this time her husband joined her and they negotiated a price in the opposite order to how things usually happen. They then had their walk through and nervously hoped the bank would grant them a second mortgage.
Originally from Preston, Maree always felt a pull to move to a rural setting. She came to Gippsland in in 1984 although it happened in stages. They moved to the Dandenongs then to Longwarry and Warragul before settling in Trafalgar in the late eighties. "The attraction for us was the climate and reliable rainfall and easy access back to Melbourne."
Maree found that making connections in her new community was up to her. "You can't wait for someone to knock on your door. You need to get out and talk to people." She urges. "Moving to a new place can be hard, especially if you don't go to church or have an interest in sport. We met many of our friends through the Apex club back then."
Maree has a diploma in Sustainability. She has long been committed to reducing waste and her reliance on supermarkets. She says that when her children were small she and her family were mostly self-sufficient except for milk and dairy. She enjoyed knowing where their food came from and their abundant garden was generous during this time.
Her passion for food and an interest in food production drew her to sourdough bread baking. After moving to the new-old house Maree started a blog. By day she was working in her finance job in the Education Department and in all her spare time she was establishing a new garden and baking bread in a tiny portable oven while she saved and planned a kitchen renovation.
The self-sufficient and just-make-do attitude is genetically ingrained in Maree. Her father was a fan of sifting through hard-rubbish to find things to repurpose long before upcycling was on trend and she was always close by to be his 'gofer.' Her home growing up was full of items that had been given a second life. "We actually played the theme to Steptoe and Son at Dad's funeral such was his love of recycling. I'm sure this has influenced my dislike of today's disposable mindset. With the huge amount of plastic and packaging that is putting so much pressure on our environment, I'm thrilled to see there seems to be a bit of ground swell happening to create change in relation to eliminating waste." Says Maree.
Maree started her blog "Around the Mulberry Tree" a place to document the new-old-house journey but it has grown to welcome a community of like-minded individuals who relish Maree's tips and recipes as well as her passion for self-sustainable living. She writes about her garden, the food she makes and reducing waste. The blog was named after the huge mulberry tree in the backyard.
Maree says she's happier in her work than she has been in long time. Having baked bread for over 30 years and sourdough around 12 years, the hard work to get the micro-bakery off the ground has paid off. "Bread is something that has stayed with me consistently and I am now fortunate enough to be in the position to turn my hobby into a very small cottage industry while interacting closely with the immediate community"