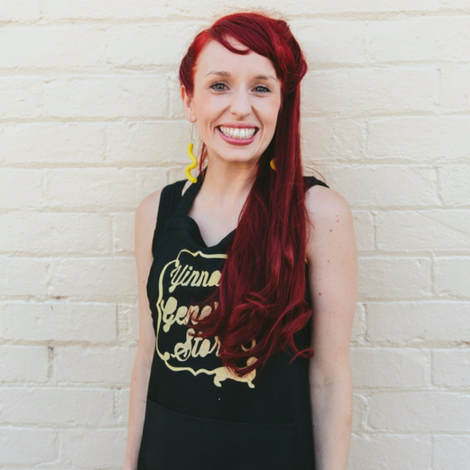 Merrin Dorothy is a familiar face around Gippsland. The owner of the delightful Yinnar General Store with her husband Matt and a talented artist as well. She is instantly recognisable with her huge smile and red hair.
Most days are spent as a family of three running their popular store with one year old son Milo along for the fun.
Merrin grew up on a sheep farm in the Jeeralangs near Yinnar. Both her parents were English teachers as well as farmers and avid gardeners. Her creative flair was fostered by her parents and her vivid imagination has been a huge driving force behind her watercolour art works that dominate her studio space and store.
The trio love to explore Gippsland with friends and family. "You don't need to go far for a vacation in Gippsland as there is so much to see and do just a hop-skip and a jump from your front door." Says Merrin.  
In her element outdoors she and her son Milo regularly take an afternoon picnic around the region. Morwell River Falls, Naracan Falls, Tarra Valley, Walhalla and Mossvale Park are her top 5 picks for a quick escape to alush, green and tranquil day's escape.
Having a space to showcase and sell local artisans handiwork gives Merrin the opportunity to regularly collaborate and promote their work alongside her own. Her skills to help others improve the appeal of their own product and brand has helped many makers over the years to take their creations from a hobby to a viable small business.
While their store is on the market they feel no urgency to sell. Six years ago they spotted a faded for-sale sign in the window and leapt at a new challenge and a long held dream to own a store. 
They are proud of what they have built the space to become. They are open to the possibilities the next chapter brings them which will no doubt continue to include creative collaborations with other artists and makers in the region.
Photo Credit :: Sherise Fleming Photography