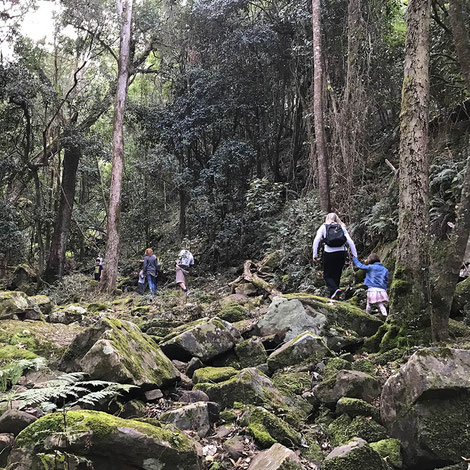 With an overwhelming response to my shout-out for Gippsland writers to collaborate with Faces of Gippsland, I've chosen a junior writer to be the first to feature here.
Meet Quinn Andrews who writes as Master 10. A boy who only recently celebrated a double-digit birthday and already contributes to his family travel blog 3 Hours from Home. 
Meet Master 10. A boy who only recently celebrated a double-digit birthday and contributes to his family blog 3 Hours from Home. 
We set off from home to head to the Den of Nargun. In the car, Dad hyped up the Nargun to be a monster of some sort, and I sat there in the car wondering if he was telling the truth. We packed lunch and ate it at the car park, then set off with some snacks, water and a massive sense of adventure.
We took the long way from the car park instead of the shorter one that takes you straight to the Den. The longer track is easier and more ideal for younger children as well as elderly people. As I walked along the dirt track I wondered, "Would this be the same 80,000 years ago?".
The transition that took place was breathtaking as we descended. The dirt track turned into lush jungle path. We arrived at the Den and I admit I was a bit frightened wondering if the Nargun was around.
The sense of mystery was all around us. As I played with my mates I felt uncomfortable, like something was watching me. We took the short way back to the car park and that was the hardest walk in my life.
We went home and looking back it was one of the greatest experiences I have had to date.
Editor's note: Words written by Master Ten.
CULTURAL INFORMATION
The Den of Nargun is a site of significance for Gunaikurnai people. It is a part of the Bataluk Cultural Trail and was a place for women's initiations and learning ceremonies.
You can learn more about the Den of Nargun here.
Further information about Mitchell River National Park via Parks Victoria Visitor Guide or Official Map.
VISITOR GUIDE
Best food and coffee
On your way through, you may like to stop at The Long Paddock, Lindenow for a bite to eat.
It's consistently great food. Smack bang in the middle of farming country with honest, genuine service. What more could you ask for when you're three hours from your favourite haunt?
How to get there
Den of Nargun is a short drive north of Lindenow up Bairnsdale-Dargo Road.
Follow the Mitchell River National Park signs.