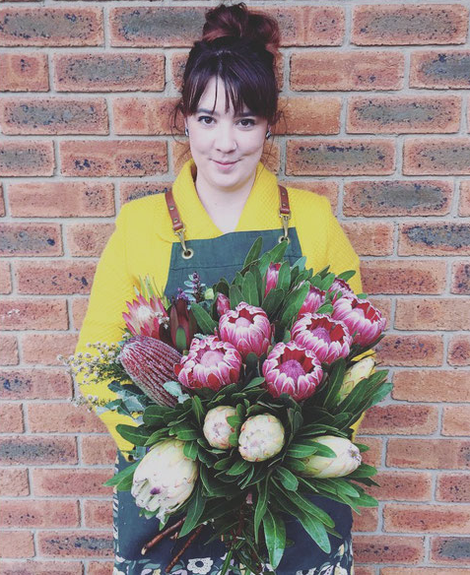 Rhi Tomholt grew up in the South West of Western Australia. She was living in Darwin after travelling around the country when she met her now husband. They both returned to his hometown of Traralgon in 2011.
Rhi has taken her passion for flowers and created a new career in floristry after years in the hospitality industry. Her desire to feed her creativity led to the creation of her business 'Flowers by Rhi' based in Traralgon. 
Along with their 1 and 3 year old children they call Koornalla home with breathtaking views across the Valley. Rhi believes everyone should get out and explore the beautiful and peaceful places to be found in Gippsland. A favourite destination for a family day trip is to Marlo.
With a passion for providing her customers with beautiful, affordable flowers while creating something different and out-of-the-ordinary. She believes flowers are not just for 'special' occasions. She is also proud of the giftware made by Gippsland makers that fill her shop shelves and loves she has a space to showcase local talent from our region.
Her main focus is building her business into a place where people love to shop as well as collaborating with other creative and talented locals.
Rhi is inspired by others in her industry like Matthew Landers; based in Perth. She'd love to have the chance to enjoy a glass of wine with him and talk blooms. She is also passionate about reducing her eco footprint and never leaves home without her Keep Cup for the essential caffeine kick.
Pushing forward with a big venture starting her own business, she lives daily by a mantra of "You can do it." She often hears her inner-voice coaxing her along whenever she's stuck or at the end of her tether, giving her the motivation to push through the challenging times.
When not creating beautiful arrangements from fragrant and unique flowers she enjoys reading and has a deep fascination with history and languages. In her youth she thought she may study linguistics and history but life took her on a different path, but Rhi has no regrets.
After juggling demands of family and business most Friday nights you'll find her relaxing with the extended family, enjoying pizza and red wine.  Who knew that meeting a nice fella in Darwin would lead to such a full, creative and beautiful life in Gippsland.