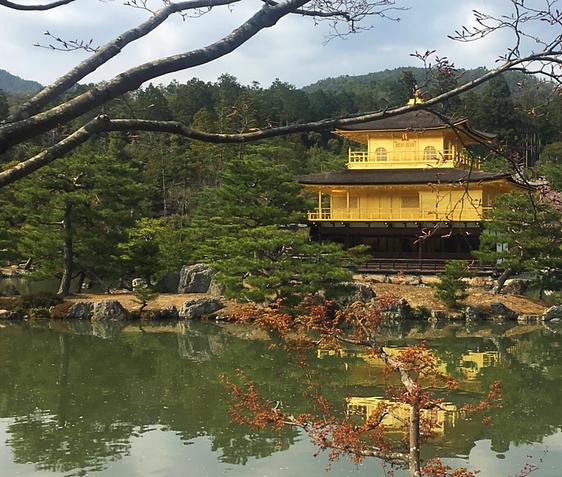 Phoebe Rae, the Founder and Creative Director of the Faces of Gippsland Project is currently travelling in Japan. On the eve of her fortieth birthday and surrounded by ancient history on an epic Mother/Daughter holiday. She shares thoughts of life and legacy.
kINKAKU-JU tEMPLE, kYOTO
While here in Japan my daughter and I visited this Golden Temple Kinkaku-ju built in 1397. It makes you think about all the people who have come and gone in the years since.
Our homeland Australia is so young in comparison to this nation of Japan. Seeing these ancient relics that have been maintained to retain their beauty and their legacy for so many, many years, makes me contemplate life and death in a new way. 
Fushimi Inari Taisha and the 1000 gates was founded in 711AD. It blows my mind when contemplating of this measure of time.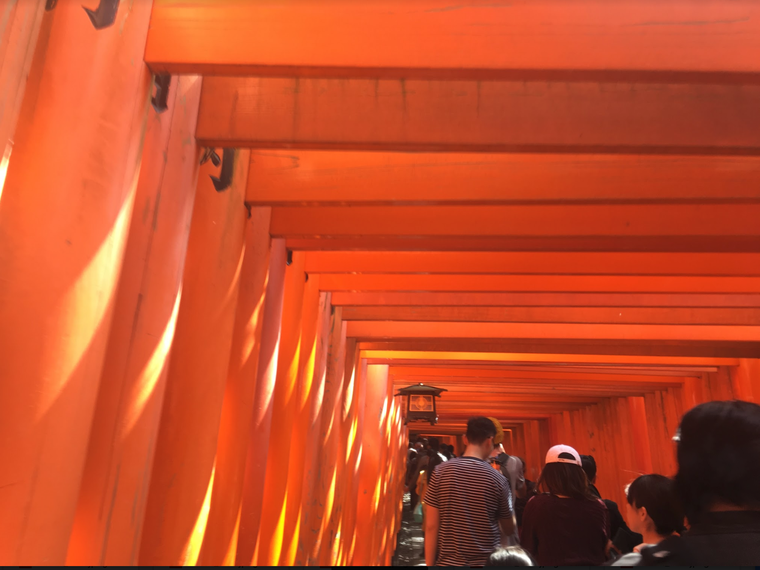 1000 GATES, KYOTO
In my mid 20's I house-sat for a work mate while he and his partner were overseas. Their fur-babies; a blind, arthritic Boxer dog and Staffy pup were a handful. They gave me a folder full of info on looking after them before they left. Two days into the stay I noted on the small desk in the corner of their lounge room was a thick school binder labeled with a hasty scrawl; All you need to know. Thinking it was more doggy instructions I opened the front of the folder.
The first paragraph of a typed page started "I guess we're dead, so here is all you need to know." I'd like to say my curiosity didn't get the better of me but no, I flicked through a few pages and there were various plastic pockets containing sealed envelopes labeled Will, House, Dogs among others. I didn't go so far as to open them (C'mon, I was curious but not THAT nosy). They were prepared for a what-if.
I remember closing the folder and only briefly reflecting how organised and prepared they were. I closed it and moved on to another a bowl of ice cream and watching another DVD and settled in to cuddle their drooly pups and I didn't think much more of it.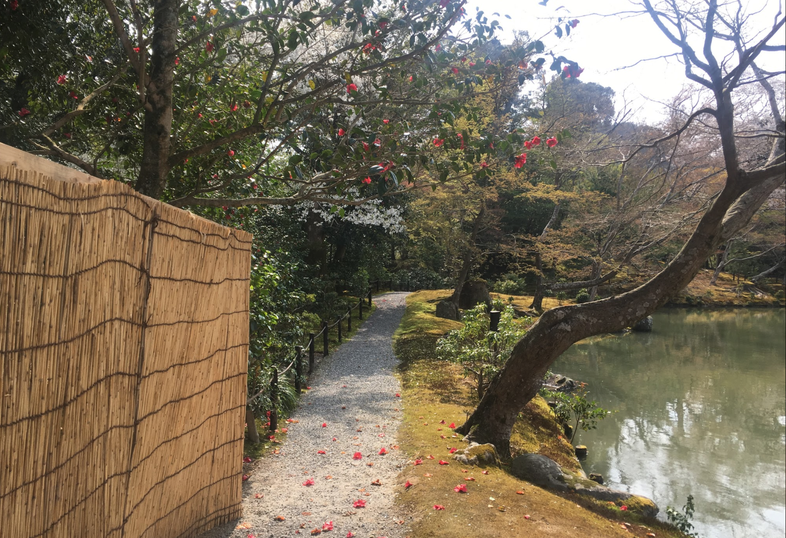 kINKAKU-JU TEMPLE, KYOTO
I'm very much a last minute, fly-by-the-seat-of-your-pants person. I don't have a will or a fancy folder with information for when I die, I do have very capable family and friends who I know would figure it all out but being unprepared does make be unnerved whenever my husband and I are away from our kids together. Add in the mothering anxiety of 'What if we both die in a car crash today' and I should come home from the event and start the ball rolling but I never have. 
We don't want to talk about what might happen when it seems so far away and we're cocky and like many others live with the naive opinion that 'it won't happen to us.'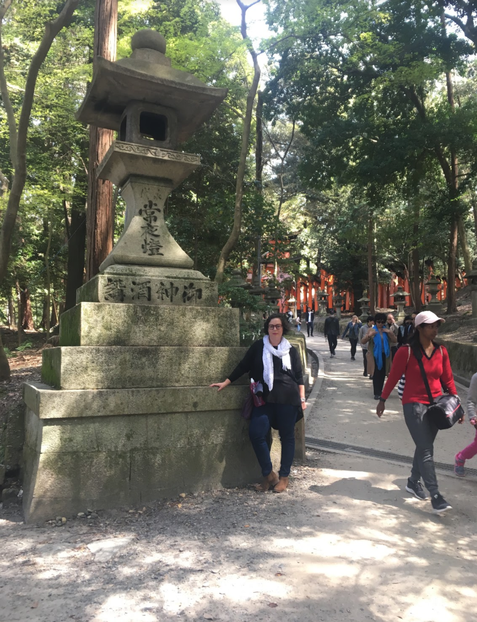 fUSHIMI INARI TEMPLE, KYOTO
A few weeks ago our small town lost a wife and mother after a short battle with cancer. A fight she fought with the ferocity of a champion heavyweight boxer despite her petite 4ft 11in frame. In her last round of chemo, with the finish line in sight and a future full of hope, she died. A lung infection was the final straw and her immune system, so battered by the chemo that had been used to save her, took her. We weren't particularly close but her passing has hit me hard. It's a painful reminder that life is indeed short and we only have now.
My life the last few weeks has been filled with moments forcing me to think about my why? What is the meaning in my life? Am I living the truest version of myself? Are the things that invest my time, money and passion into all in line with my core values? What are my core values?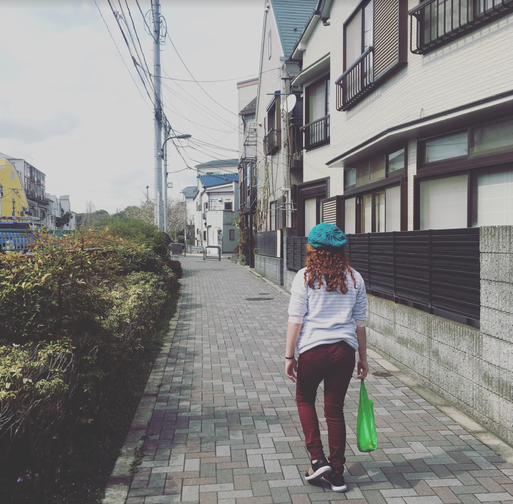 KOENJI, TOKYO
Em Rusciano wrote a death letter that went viral. I loved it and laughed and cried when I first read it online and then in her book. I also thought about that 'All you need to know' folder on the side desk from dog-sitting years ago.
Tomorrow I fly home with one of our kids from a holiday in Japan. A selfish 'It's my birthday and I'll go to Japan if I want to' adventure that I told my husband I was taking rather than asking if it was OK with him. The patient and long suffering man that he is, he embraced my whim and cheered me on in my planning. 
13 days ago when I sat ready to leave a bunch of kids and a husband home and take only our eldest daughter, I felt unprepared. I packed the bags and booked all the necessary elements of an overseas trip to the tenth degree, but I was not prepared. There was no folder, no death letter and if I didn't return, what would my legacy be?
Brooke and Ben McAlary urged their podcast listeners last year to write their own eulogy. An exercise to push you to contemplate your life more than your death. To think about what is it about your life that gives it meaning; what is your legacy.
I told my husband when I left for the airport that I wasn't going to write a death letter. I said that he and others who are close to me have hopefully heard me tell them how much I love them and value them while I'm still alive and this I hope is enough in the event of my death.
The truth is, if I put pen to paper, I could not possibly stop. 'How do I love thee, let me count the ways.' Elizabeth Barrett Browning put it best. Love is unending. My love for my husband and our family lives on without us. It is in every anzac biscuit they will eat and every warm milo they drink. They won't remember the variety of veggies on their plate or how often I washed their sheets. They'll hopefully one day tickle their own children to wake them up and remember us doing the same to them. They'll remember me not because I write it down but because each day I pray that each kiss counteracts each cranky, 'Just put on your shoes! I've asked you how many times?' That there is a balance just enough for them to remember the love not the frustrations.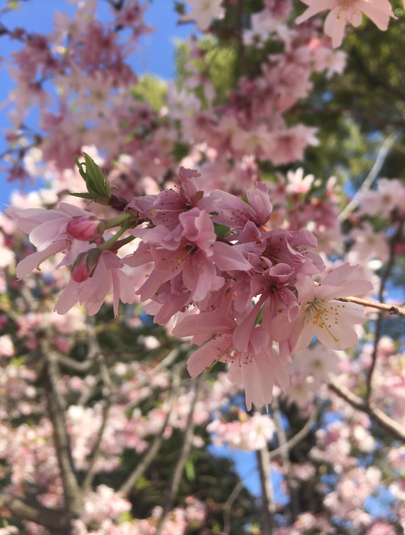 How do I love thee?   Sonnet 43
How do I love thee? Let me count the ways.
I love thee to the depth and breadth and height
My soul can reach, when feeling out of sight
For the ends of being and ideal grace.
I love thee to the level of every day's
Most quiet need, by sun and candle-light.
I love thee freely, as men strive for right.
I love the purely, as they turn from praise.
I love the with the passion put to use
In my old griefs, and with my childhoods faith.
I love thee with a love I seemed to lose
With my lost saints. I love thee with the breath,
Smiles, tears, of all my life; and if God choose,
I shall but love thee better after death.
Elizabeth Barrett Browning 1806-1861
sAKURA - cHERRY BLOSSOM, oSAKA cASTLE GARDENS, OSAKA
A week shy of my 40th birthday I feel stronger and healthier than a decade ago. Death seems like a long way off, in reality this is probably how pedestrians shopping in Burke Street mall a year ago felt. How those competing in the Boston marathon thought as they focussed on achieving a personal best in their race and not thinking that 'today I might die'.
One element of my day-job is discussing end of life plans with health providers. Advanced Care Plans are a document you write up with your health professional this can then be uploaded it to a digital e-health space so when the time comes, your wishes can be followed.
Unspoken is a wonderful initiative to encourage people to have the conversations that are too often left Judy that way, unspoken. Aimed at the older population who are closer to their expiration date than us young lot, the message is still relevant for all. We need to talk about death. I just checked with Google and the death rate is still at 100% and holding.
So if I did put pen to page today, print a letter to my family to be read after I'm gone, what would it say?
Should I instead of writing any letter, just say all those things, all the time; now and for as long as I have breath? This way, when my time comes there is nothing left unsaid?
A friend became a step-mum to an toddler and the child's biological mum died tragically in a car accident when she was just 11 months old. She has experienced this grief second-hand being the one to get the pre-fab family. She has a well planned and thought out thing she calls her 'death box'. She regularly adds notes and cards, photos and even letters to be opened on special days in the event she isn't there to be with her children and husband in the future. She has an email address for each of their children and regularly sends photos and thoughts to them to read in the future. 
When I get home from this trip, we really must sit down and write a will. We should bundle up some information about bank accounts and investments and all the grown up things one should do when they have offspring and a death rate of 100%. But if we don't and our time is up before this is done, there is love and laughter and I pray, this is enough.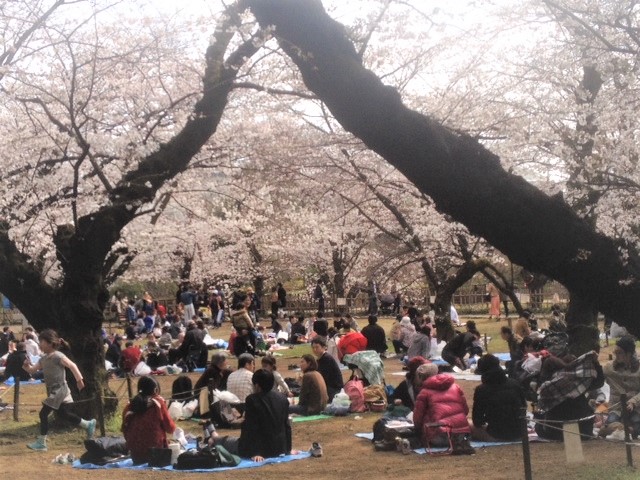 tetsugakudo Park, Tokyo