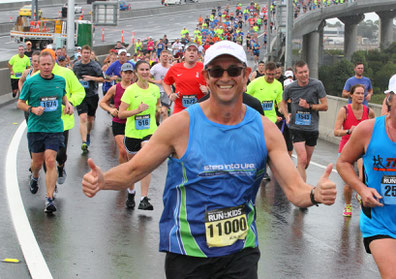 Vin Rabl grew up in Warragul in a family with 8 brothers. He thanks his 'mid life crisis' for saving his life. 
Vin Rabl grew up in Warragul in a family with 8 brothers. He thanks his 'mid life crisis' for saving his life. He became a single parent with two children in 2005 and over the next few years made some big life changes. Upon turning 40, after 22 years of smoking he quit. Where he used to go through 20-30 cigarettes a day. One year later he weighed in at 100kg and was told by the blood bank that his cholesterol and blood pressure were too high to donate blood anymore.
"To top it off I was diagnosed with gout and knew I had to make some significant health changes or I'd end up needing constant medication. At that time, l had a great paying job & was coaching my sons junior football team. I began jogging Cliff Young style but only for a 1 or 2 km's at a time try to lose some weight. After 2 years I had lost about 15 kg and was still training the junior footy team.  I loved training these youngsters and wondered if this could be a profession.  I enrolled to the Australian Institute of Fitness in Jan 2013 and in Jan 2014 bought a Step into Life Personal Franchise.  .
Now the fittest and healthiest he has been in his adult life, he's smashing the goals he set for himself at the beginning of the year which was to compete in 10 running events of 10km or more in distance in 2017. To date he has completed 9 events including Run 4 Kids, Run Melbourne and The Great Puffing Billy Train Race.
"
My message to everyone is that if I can change, anybody can, you just need to start.
Vin Rabl, Personal Trainer
"
"Call it a mid-life crisis but at some stage you look back at your life and remember when you were at your happiest.  For me this when I was at Assumption College boarding school where my passion was Aussie Rules footy and I was lucky enough to be playing top class school boys footy.  Sometimes I wish I could have another go." Reflects Vin.
Vin loves that Warragul is only an hour's drive to everything that is important to him.  "The beach, snow, mountains, awesome river & lake systems and of course you're only an hour from the most liveable city.  It's also the greenest place on mainland Australia."
Passionate about Sports, Olympics, AFL, Richmond, Health and Fitness in general. "I have a number of happy places in Gippsland including my home, work, and my own training time.  I love being outdoors and Mt Worth, Mt Cannibal and Sunset Track aka Gentle Annie, are pretty special locations.  Tamboon inlet is the best for getting away to relax and fish."
"I get a real buzz from helping others achieve their health and fitness goals.  Whether that's losing 5kg's, running 5km, competing in an event or dropping a dress size it doesn't matter.  There's a lot of emotional reward in achieving goals so I'll be doing the same thing."
A typical night for Vin involves home-made pizzas with partner Courtney, daughter Georgia and Courtney's son Jack.  "My son Corey is now 20 so he's off with the girlfriend Clare most of the time, so it's just us home, usually watching a movie or the footy together." Says Vin.
Running your own business isn't easy but I don't have any regrets about turning my life around. It's a fantastic journey and I can't wait to plan my 2018 adventure. Inspired by the quote, "What doesn't kill you makes you stronger."