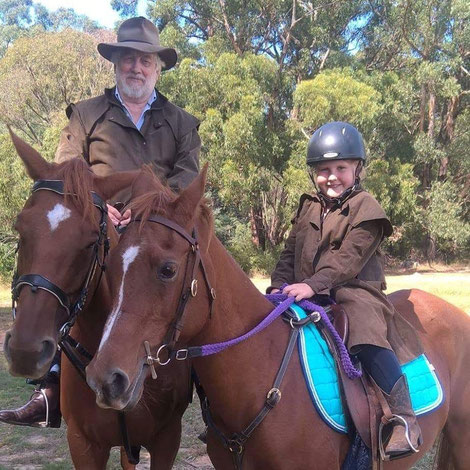 Michael Dempsey of Trafalgar says the biggest life changing moment for him, was when he met a pretty Australian girl in London and decided to return to her home in Australia -
to 'check it out.'
A London boy born and bred, he always felt a pull to a rural life. His friends thought him a bit barmy as he'd drive to the countryside when not on duty as a London Police bobby.
He liked London city-life but never felt at home as when he was in the country. This he attributes to his fathers rural Irish origin, who was from Clonmel, meaning 'Honey vale', county Tipperary.
After a brief time in Brisbane he settled in Melbourne and when he could his weekends were spent heading out of town. One of his first trips was to the Ninety Mile beach, Bemm River and the Tambo river.
Later Michael would often visit Gippsland to Shady Creek, Jindivick, Seaview, Maffra and Lakes Entrance. He frequently came from his home in Oakleigh to Yarragon for a Sunday drive, also exploring other parts of Baw Baw on the 'Gourmet Trail'.
Nearing retirement he finally made a tree-change to Willow Grove after his wife found work in Warragul .
Michael says being willing to join the community through volunteering was the key for him to meet people in his new home town. His first connections were made at the Willow Grove Lions Club and then became involved with the Hill End Football and netball club as well as the Hill End Herald.
He calls Tanjil Valley 'The Gateway to Gippsland' and whilst not living there anymore, is passionate about seeing the area flourish.
Currently all his energy is directed into the '11th Tanjil Valley Art Show' which is held at the Hill End School on the Queens Birthday weekend each year. 
He was at their first meeting merely as an onlooker after chauffeuring his friend who wasn't able to drive at the time. Eleven years later he is now Chair of the art show committee.
His next project alongside other passionate locals is to save the Hill End School, the home of the Tanjil Valley Art Show. 
He was also recently invited to join the Trafalgar and District Community Bank Committee with his experience in the community and volunteering. He has been impressed watching the organisation supporting various groups and projects in Trafalgar and the surrounding district.
Michael maintains a glass-half-full attitude in life. He enjoys time spent with his granddaughter Prue and he insists she avoid using the word 'hate', believing there are always positives to be found in life and in people. He gets great pleasure introducing her to new food, classical music and sharing with her his love of history and culture. Next year he intends taking Prue on her first overseas trip to England and Ireland. The 9 year old has taken to exclaiming 'Gordon Bennett' just like Michael and the two are very close.
His one regret is is never seeing St Petersburg in Russia, often called 'The Venice of the North.'
This true gentleman who is never seen without a collar, his hat and boots, hesitated to call himself a 'local.' A term often reserved for those in a location much longer than he. He has certainly made his mark in his community and cannot imagine living anywhere but right here in Gippsland.