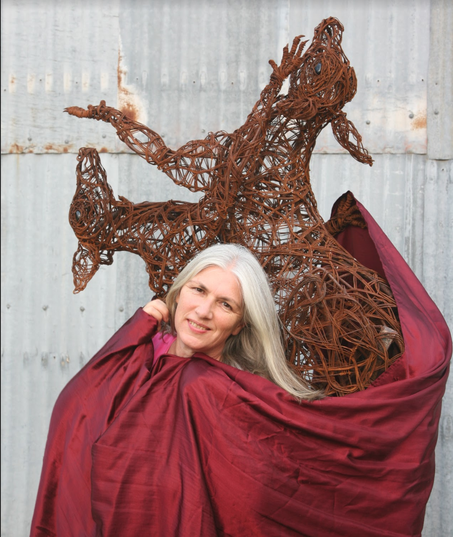 Jo Caminiti moved to Gippsland after taking a job with the Catchment Management Authority. She and her former husband took the opportunity to start a new chapter in their life; moving from Melbourne after a family tragedy. They were quickly joined by their son. Proving that life is rarely lived in a linear path Jo has come full circle in and now works full-time as an artist from her 13 acre property by Rainbow Creek near Cowwarr.

A rural upbringing was a firm foundation for a life in country Gippsland. Although she was raised on a dairy farm in Northern Victoria, her father originally hailed from Dollar in South Gippsland. "Most of Dad's family moved north in the late 1950s to farm where it was flat with no rabbits, blackberries or bracken, and you could turn the water on and off as you pleased - a welcome change from the 'Heartbreak Hills' of the Strzeleckis." Reflects Jo.
Her pièce derésistance was unveiled last month at the beautiful Blue Gables Vineyard in Maffra. A life sized wire-work sculpture of a pair of fighting kangaroo's has been the primary focus in the 'big shed' art studio for almost a year. "I wanted to give my local friends and supporters in Gippsland the chance to see it before heading to Melbourne for exhibition at the International Flower and Garden Show."
At only 15 Jo had to choose between art and science as they clashed on the timetable in her rural high school. "I chose science which led to a rewarding and challenging career of three decades in natural resource management and sustainability." A sensible decision despite her natural talent in the arts.
 1980 Jo painted a mural on her family home of Kangaroos
Jo's passion for art has always remained in her core. "In my early thirties I submitted my folio to do a degree in visual arts, and tossed my hat in the ring for a environment job in Gippsland. The same week I was offered a place in in the degree and an interview for the job, I found out I was pregnant after two years of trying for a child. We ended up moving to Gippsland."
In her early forties she had plans to work part-time to make space for more art in her life; soon after this her marriage broke down and again her artistic passion was put on the back-burner while she knuckled-down working full-time for another decade, progressing in her environmental science career to support her son.
"Four years ago while participating in the Gippsland Community Leadership Program, I had a moment of clarity about why I was so dissatisfied with my work and at such a loss for a solution. We were visiting Kerrie Warren's Pilgrim Creek Studios where I asked what was the catalyst for her to pursue her art practice full time. She said she could feel the clock ticking.
This resonated with Jo who heard an unbearable sound of ticking reverberating in her own mind. After returning to work following long-service leave she was informed her position had been made redundant. "They pushed me off the cliff, and I chose to start flapping madly, so here I am as a full time artist in my art business." She recalls animatedly.
Jo describes having the opportunity to pursue her art practice full time over the past two years as 'a roller coaster ride of joy and terror.' With the unveiling of her sculpture was both a celebration of the sculpture's completion and her artistic reboot after the 30 year career detour.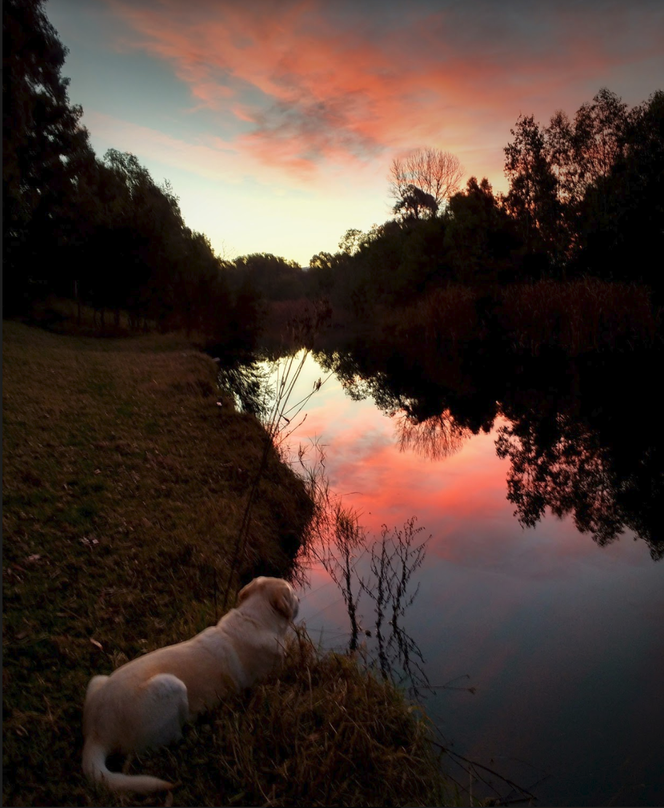 Luigi the Labrador watching the sun set over Rainbow Creek
Jo is committed to living as sustainably as she can and loves to tend to her abundant garden each day; foraging for food to enjoy with a glass of moscato or prosecco.

"Making our mark on our patch by the Rainbow Creek, planting an orchard and raising livestock to feed my family fulfills a yearning that was born watching 'The Good Life' on TV in the 1970s. In the half century I been on this wonderful planet, nothing else has got me out of bed before an alarm, brimming with such enthusiasm to meet the day." Beams Jo.
Living in Gippsland she finds her surroundings a constant source of beauty and inspiration. "Gippsland is a truly beautiful and diverse region. From snow capped Alps to wild coasts with endless beaches; rolling green hills and golden plains with temperate rainforests, cathedral-esque tall timber and grassy woodlands; mighty rivers, the nation's largest navigable lakes system, and extensive wetlands of international significance." With this vivid retelling, It's easy to see why it is here she has made her home.
Now self-employed as an artist she spends her days creating with wire and discarded metal in her art studio on their picturesque property where she is surrounded by plentiful natural inspiration. Her partner is working towards following in her footsteps and hopes to be able to step away from his other work to focus more on his own passion for creating too. Their plan is to set up their property for farm-stays and conduct workshops for other artists; hosting visits and open days.
"I love sitting by the creek and feeling the cool breeze over the water and watching the fish rise, the aerial antics of birds over the water, the mad dashes of our resident water dragon catching insects on the lawn, and the occasional elusive platypus feeding in our swimming hole." Jo finds this the perfect place to stop and reflect on each day as the sun sets over the water.
Jo calls moving to Gippsland 19 years ago her sliding-doors moment. "Only a few years ago I was living with regrets "I was on a path that no longer worked for me, with no apparent way of getting off, and it was impacting my mental and physical health and my relationships. Today, I am more accepting that I am the sum of my experiences and choices - the good, the bad, and the ugly." Reflects Jo. "And I would also not be where I am now in a loving, mutually supportive relationship, pursuing my creative passions."

" 'Don't wait for the storm to pass, learn to dance in the rain,' I had this scrawled across my dressing table mirror in teal eyeliner for several years after my marriage break down - a good use for teal eyeliner post 1980's." Laughs Jo.

If there is one piece of advice I would give to her younger self, "Not to let an overdeveloped sense of responsibility and fear of changing paths get in the way of pursuing what is in one's heart"