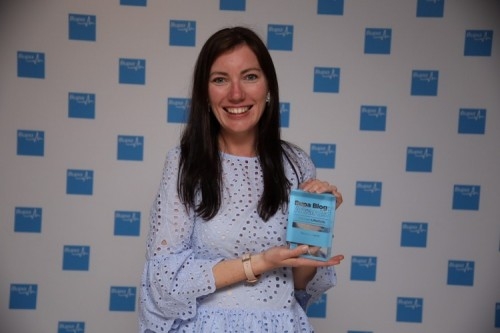 Meet Emma Steendam, Thorpdale farmer, photographer, mother and blogger who has been awarded 'Blogger of the Year' by Bupa. Emma has been blogging for 10 years as she and her now husband Matt , worked around the country, finally settling a few paddocks away from Emma's childhood home. A professional photographer who has captured her life through pictures and her passion for writing, has had her talent recognised this past week.
A bevy of talented bloggers have gathered at an awards ceremony in Melbourne, where the winners of this year's Bupa Blog Awards were revealed on Thursday night.
There was an air of excitement, anticipation and anxiousness as former winners and Bupa Blogger Alumnae welcomed newcomers and this year's finalists.
The night's top prize was awarded to She Sows Seeds by Emma Steendam, who took out not only the 2017 Bupa Blog of the Year, but also the Lifestyle category.
Emma was described as an honest and authentic blogger who writes beautiful content on everyday life in a fresh and engaging way. Her blog She Sows Seeds has exceptional writing, variety and potential and Bupa is excited to continue to watch the blog grow and develop.
Emma says she was completely taken by surprise.
"I was shocked to even be nominated as a finalist, so I can't believe it! I've been blogging for 10 years so it's been a very long time just doing what I love," she says.
"I put my heart and soul into blogging, it's my jam. This is what I always wanted to do. I love writing, I connect with people, and the thing to think about is, why. My community is my 'why'. Every day I wake up and I live in the country, and I don't have many mums around me but every day I turn on my phone and they're there. And it's awesome."
"
I just stomp around my veggie garden with my toddlers and my chickens! So thank you to Bupa I'm really really excited for next year and any opportunities it will bring.
Emma Steendam, She Sows Seeds blogger
"
Emma's writing has evolved over the years as their journey through life has take it's twists and turns. The cuteness factor is pretty high since the addition to their family of two energetic daughters, although the blog is so much more than bows and babies. Emma's haunting post retelling their experience together pre-kids during the Black Saturday fires has you feeling the intensity of that day; you can almost smell the acrid smoke as you read. A love of gardening has been a common thread and Emma and her green-thumbs receive constant questions for her secret to growing the abundant hydrangea blooms seen in her farm house garden.
"This has been one of the hardest years to judge, primarily because we've had so many incredible entries, with 800 nominations and 600 unique blogs," says Philippa Crisp, Bupa Blog Awards Project Manager.
"But we're so excited to welcome this amazing group of bloggers and we can't wait to start to work with some of the finalists and award winners to help them build their blogs, learn from their experiences and expertise, and no doubt also develop strong working friendships," she says.
Find out more about the awards and all the fantastic Bupa Blog Award finalists on the Blue Room.
#BupaBlogAwards